Die US Justiz, das FBI ermittelt in diesem Fall: Wo Edi Rama's US Albanischer Freund: Bilal Shehu hat sich  schuldig bekannt.
US Ratten, wie John McCain, Wesley Clark, Hillary Clinton, Obama, erhielten alle Geld, von der Albaner Mafia, oft auch aus dem Kosovo. Bleibt die Frage, wieviel Geld Deutsche Politiker schon machten? siehe Visa Skandal.
Für den Wahlkampf darf nach Amerikanischen Gesetzen, kein Geld aus ausl. Quellen fliessen, was besonders die hoch kriminelle Verbrecherin Hillary Clinton macht. Edi Rama gab über Podesta, bzw. dem US – Albanischen Geschäftsmann Bilal Shehu: 80.000 $ für ein Foto mit Obama, was inzwischen eine Justiz Untersuchung ist in den USA, wo der Albanische Geschäftsmann diese Fakten inzwischen bestätigte. Wir berichteten hierüber schon in 2012, wo nur die erneute Geldsumme unbekannt war. 2,4 Millionen $ bezahlten Albanische Politiker, bereits an US Lobbyisten, was ein Erpressungs System des Frank Wisner, Hillary Clinton ist, wo das FBI ermittelt.
foreign policy: "have transformed Albania into a Banana Republic" : Samir Tahiri, Arben Ahmeti, Ilir Meta, PM: Edi Rama
Postuar: 30/06/2016 – 23:08
Departamenti Amerikan i Drejtësisë konfirmoi shkrimet e mediave amerikane mbi skandalin në pritjen e Obamës. ……
(https://www.justice.gov/opa/pr/new-jersey-man-pleads-guilty-helping-disguise-foreign-contributions-during-2012-presidential)
Titel Story, über viele Hintergründe das Original, der Washington Post


An albatross in Albania?
Scandal is hindering U.S. plans for building ties with moderate Muslims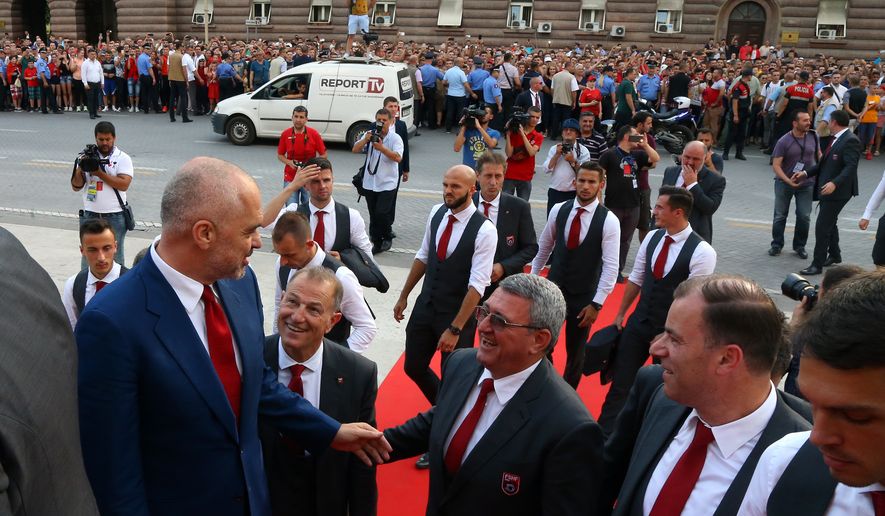 ANALYSIS/OPINION:
In what is increasingly reminiscent of a John Le Carre novel, it seems that with each passing month there is a new chapter in a seemingly unending series of revelations of political intrigue and drama that are overwhelming the Republic of Albania.
Whether looking on from the vantage of a professional in geopolitics and governance or as a casual observer, the common thread to these exploits seems to be Albania's Socialist Prime Minister Edi Rama.
U.S. interest in these mounting controversies in Albania stem directly from the emerging realization that the United States needs, as allies and interlocutors, truly moderate and secular Muslim-majority nations. As such, the presidential campaigns, including foreign policy experts gearing up to advise the next administration, are preparing to seek closer bilateral relations.
While fitting this bill, Albania has a major impediment — the current government's cavalier disregard for the rule of law and an intimate relationship with organized crime and corruption, allegedly with Mr. Rama at its apex.
Prior to Mr. Rama's rise to power, Albania successfully bid for NATO membership, but his recent violations of the constitution and law, the botching of legal reform, and alleged corruption may to be a potential roadblock to Albania's European Union ascension.
The latest chapter, one which regrettably entangled fellow NATO member Italy, revolves around the alleged illegal wiretapping of Albanian political opposition, government officials and embassies and diplomats of key partner nations in Tirana. The genesis of this yarn includes the readily verifiable fact that the Italian national police loaned their Albanian counterparts an IMSI-catcher, a sophisticated surveillance device. According to Italian officials, the device was on loan expressly for training purposes.
According to Wikipedia, "An IMSI-catcher is a telephone eavesdropping device used for intercepting mobile phone traffic and tracking movement of mobile phone users. Essentially it is a 'fake' mobile tower acting between the target mobile phone and the service provider's real towers, it is considered a man-in-the-middle (MITM) attack. IMSI-catchers are used in some countries by law enforcement and intelligence agencies, but their use has raised significant civil liberty and privacy concerns and is strictly regulated in some countries ."
In response to these latest allegations, Albania's general prosecutor launched what is described as a full and expansive investigation. Based on facts uncovered in the investigation, the general prosecutor requested the suspension of the director general of the Albanian national police, Haki Cako, on the grounds of suspected of abuse of power and illegal wiretapping.
An Albanian court granted the request, and put two other senior officials under house arrest until the investigation is concluded. This, in keeping with modern democratic standards.
In an incensed reaction, Mr. Rama and his political ally, Interior Minister Saimir Tahiri, heatedly criticized the prosecutors for pursuing charges against Mr. Cako, and repeatedly and publicly attacked the judge in the case for his decisions from the bench. This seeming frontal attack on the rule of law may prevent Albania's acceptance in EU, at least under the current leadership.
Mr. Tahiri publicly condemned the presiding judge in the case, Arjan Aliaj, viciously accused him of freeing murderers and rapists for political gain. Further, seemingly in an attempt to spark populist fervor, Mr. Tahiri accused Judge Aliaj of being a pawn of "those who are seeking to hinder and stop justice reform." However, reports have Mr. Rama stalling the judicial reforms by alienating opposition and attempting to exclude it from negotiations.
On the other side of the Albanian political landscape, the oft-attacked opposition contends that accusations without proven merit and conveyed is such a belligerent and antagonistic manner are dangerous emanating from any prime minister and interior minister. Further, the opposition is concerned that since Mr. Rama came to power, he is adversely affecting the credibility of the fabric of the Albanian government, both domestically and on the world stage — with dire results.
The current opposition leader, Lulzim Basha, the leader of the Democratic Party, and his predecessor former Prime Minister and President Sali Berisha, are not shy when speaking truth to power. Mr. Berisha was a key figure in post-Communist Albania and shepherded his country from its tortured communist past to join the community of sovereign democratic nation states.
Albania is a moral lesson for the United States. To fight extremism, Washington needs to prioritize the development of close partnerships with moderate, secular and modern Muslim-majority nations like Albania. To that end, the current and the future administration, including the departments of State, Defense and Justice, must move Albania up on the priority list, while paying close attention to Edi Rama's questionable practices. Albania is a priority for the U.S. interests, although Mr. Rama quite possibly may be an albatross.
• Jason Katz is the principal of the Tool Shed Group, LLC, and the former head of public affairs for the American Jewish Committee.
http://www.washingtontimes.com/news/2016/jun/29/an-albatross-in-albania/
youtube canal: albanian premier minister: Edi Rama "The next scandal" of this kind of ctime Idiot