Asghar Sharifi, einer der "alten" MEK Terroristen der Hillary Clinton und des CIA starb in einem Tirana Hospital, wo schon 3 weitere Frauen starben. MOSSAD und CIA finanziert.

Insider Informationen: Intercept: MEK Has All Trappings of Totalitarian Cult
A recent article in The Intercept describes the Mojahedin-e Khalq (MEK) as a "totalitarian cult," loved by US foreign policy hawks. Only recently, a former FBI director and US Senator John McCain visited the MEK in exile in Albania.
Hillary Clinton betreibt ein Erpressungs Kartell lt. FBI, erhielt Milionen auch von den Saudi Terroristen. Man bezahlt die korrupte Verbrecherin ganz einfach.  «Hillary Clinton to be Indicted on Federal Racketeering Charges»
Uralte US Unterstützung, welche man sich kaufte: US Partner, welche man finanzierte, welche Kopf Abhacker und Hintermänner von Welt Verbrecher sind und waren: wie John Bolten, oder
Iran hawks such as James Mattis and Mike Pompeo to run the Pentagon and the CIA, respectively; counts MEK shills such as Giuliani and Gingrich among his closest outside advisers; and appointed Elaine Chao, who took $50,000 from the Rajavis for a five-minute speech in 2015, to his cabinet.

Rudolph Giuliani
For instance, see this 2004 article in the UK Guardian, entitled, "The Chechens' American friends: The Washington neocons' commitment to the war on terror evaporates in Chechnya, whose cause they have made their own."
Of course, Giuliani also just happens to be one of several neocons and corrupt politicians who took hundreds of thousands of dollars from MEK sources when that Iranian group was listed by the U.S. State Department as a Foreign Terrorist Organization (FTO). The money paid for these American politicians to lobby (illegally under the Patriot Act) U.S. officials to get MEK off the FTO list.
Die MEK Terroristen, erlauben niemanden ihre Camps zuverlassen, haben eigene Gefängnisse, lassen Leute ohne ärztliche Versorgung verrecken (inklusive Tirana)  und der Westen ist Partner der Verbrecher, inklusive der Deutschen CDU, wie die Fakten zeigen.*
Eine US Kongreß Anhörung dokumentiert das die MEK Terroristen des John McCain, Hillary Clinton, Tom Ridge, Partner bzw. identisch sind mit den ISIS/ISIL – DAESH Terroristen, welche wahllos Köpfe abschneiden im Irak und in Syrien. Warum schweigt Europa über dieses Terroristen Nest, die Kopf Abschneider Clans, was die Amerikaner produzierten, seit 20 Jahren finanzieren und das vor aller Augen. Inklusive Drogen Handel, als Haupt Finanzierungs Quelle.
MEK Terrorist Group To Testify Before Congress By Global Research News, May 03, 2015
Hillary Clinton ist direkt vom Terroristen Financier: Katar finanziert. Geld ohne Ende. Experten für Kopf Abschneider und Terroristen mit über 20 Jahren als Haupt Terroristen Förderer auch im Balkan:
Brother of Hillary Clinton's Top Campaign Aide Lobbied for Fracked Gas Export Terminal Co-Owned by Qatar By Steve Horn, May 02, 2015
The Kosovo Liberations Army: Does Clinton Policy Support Group with Terror, Drug Ties?
http://www.fas.org/irp/world/para/docs/fr033199.htm
Es sind offizielle Auftrags Killer auch für den Mossad, was kein Geheimniss ist, um Iranische Wissenschaftler und Politiker zuermorden. Solche Sachen mit Terroristen, Schlächtern und übelsten Verbrechern, laufen nun über 20 Jahre, über Albanien, inklusive Waffen und Drogen Geschäfte Weltweit.
Er wurde verletzt, bei einem Raketen Angriff auf das Camp Liberty, am15.Juni 2014 im Irak. Das sagt uns, das Albanien von den Amerikaner als Terroristen Ausbildungs und Ruhe Stätte benutzt wird.  Hofschranze Friebert Pflüger ist bei diesen Geschäften rund um Erbil ebenso aktiv dabei. Bekanntlich tobt der ebenfalls auf der Terrorlisten stehende Yassin Kadi (in seinen Hochhäusern residiert natürlich die KAS in Tirana) mit Erdogan mit den Islamischen Terroristen auch in Syrien herum. Promotet wurden die Terroristen, direkt von John McCain, Tom Rich, John Kerry, wie Hillary Clinton, das die Langzeit CIA finanzierten Verbrecher Clans von der Terroristen Liste kommen.
In Nevada wird die auch als Ratten des CIA und Mossad bekannten Verbrecher Clans trainiert:
Zum Thema schweigen wie immer die EU Spinner, obwohl Alles sich vor ihren Augen abspielt und nun seit Jahren. Man zockt lieber mit Konferenzen und Unfugs Justiz Missionen ab, wo Justiz unerwünscht ist, was jedes Kind weiß.
In diesem Fall, ist der sogenannten Deutsche UN Diplomat Martin Kobler verwickelt, der für Terroristen mit den Amerikaner eine neue Operations Basis sucht. Natürlich war Martin Kobler auch im Irak und Afghanistan, wo man den letzten Schliff für Mega Diebstahl und Betrug erhielt. Typischer Stabs Chef, des Taxi Schein Besitzers und Partner der Drogen und Verbrecher Kartelle: Joschka Fischer. Im Solde von Langzeit Terroristen, weil man für die CIA finanzierten Terroristen im Irak keinen Platz mehr hatte. Jetzt tobt man im Kongo herum, führt ein lustiges hoch dotiertes Leben, verdient an jedem Drecks Geschäft, und muss nur dafür sorgen, das der Staat nie funktioniert. Rückblick
Tom Rich und Albanien: Er ist Lobbyist für die MEK Terroristen, die auch in Albanien untergebracht wurden.
Support for the listed "terrorist" group People's Mujahedin of Iran
Former Pennsylvania governor Edward Rendell included Ridge among a group of former U.S. officials who have been lobbying and building support for the "de-listing" of the People's Mujahedin of Iran (MEK, also PMOI, MKO) from the U.S. State Department's list of Foreign Terrorist Organizations.[24] MEK has been accused of successful and unsuccessful attempts to kidnap or murder U.S. officials in the 1970s. They joined Saddam Hussein's military to fight against Iran in the U.S.-backed 8 year war between Iraq and Iran that produced 1.5 million casualties. They have also been accused of partnering with Israel's Mossad in the assassination of several of Iran's nuclear scientists.[25] Ridge has been among those investigated for receiving tens of thousands of dollars for their lobbying efforts for the organization.[24]
Die US Terroristen mit Tom Rich, bringen neue Terroristen nach Europa
Shqipëria – varrezë për muxhahedinët iranianë
 3 shkurt 2015 –  Në kohën e Kryeministrit Berisha, Shqipëria bëri një gjest tipik proamerikan duke pranuar ardhjen në Shqipëri të qindra muxhahedinë iranianë të strehuar në kampin "Liria" në Irak, të cilëve u rrezikohej jeta nga ekstremizmi shiit i qeverisë së Kryeministrit Al-Maliki. Amerikanët kishin një borxh nderi ndaj këtyre muxhahedinëve armiq të betuar të ajatollahëve iranianë dhe ua shpërblyen duke u gjetur strehim të sigurtë në Shqipëri.
Ardhja dhe qëndrimi i këtyre muxhahedinëve në Tiranë nuk përbën më lajm, përveçse kur muxhahedini i radhës përcillet për në varrezat e Sharrës. Deri tani nga sëmundjet e rënda apo nga plagët e marra nga bombardimet e Kampit Liria në Irak, kanë vdekur tri femra muxhahedine.
Mediat pranë kauzës së muxhahedinëve lajmëruan këtë të hënë më 2 shkurt 2015, që një tjetër muxhahedin ndërroi jetë në Spitalin e Tiranës. I ndjeri është Asghar Sharifi, që ndërroi jetë më 30 janar 2015 për shkak të plagëve të marra gjatë një sulmi me raketa kundër Kampit Liria më 15 qershor 2015.

Sharifi ka 45 vjet aktivitet politik në rradhët e muxhahedinëve, që kur ishte student për inxhinjeri nafte në Teheran. Ai si i burgosur politik provoi me rradhë birucat e torturave të SAVAK-ut, policisë sekrete të Shahut Pahlevi, më pas u arrestua edhe nga milicia Basij e mullahëve, që sundojnë Iranin, e në fund fare provoi edhe torturat e milicisë Shiite irakene dhe bombardimet e tyre kundra Kampit Liria jo larg Bagdatit.
Për fat të keq, me kalimin e kohës prania e muxhahedinëve iranianë në Tiranë po kthehet gradualisht në problem për qeverinë tonë dhe jo thjesht një shkëmbim favoresh me administratën amerikane.
Die auch als MEK Terroristen bekannten Banden, welche bis vor 2 Jahren noch auf der Internationalen Terroristen Liste standen.210  erhielten Asyl in Albanien, und der Premier Minister des Iraks, Maliki hat die USA vor 2 Jahren mit Hillary Clinton gezwungen dafür zusorgen, das  diese US finanzierten Banden den Irak verlassen. Man bringt diese vom CIA ausgebildeten Mord Terroristen also dann auch nach Albanien, weil die Irakis, ihr Terroristen Camp geschlossen hatten.
aus 2013
* *Iranian MP Warns Tirana Hosting MKO Terrorists Endangers Albania's National Security * * * TEHRAN (FNA)- The relocation of the members of the terrorist Mojahedin-e Khalq Organization (MKO, also known as the MEK, PMOI and NCRI) in Albania will threaten the country's national security, an Iranian legislator warned on Sunday. * On Thursday, US State Department Spokeswoman Jen Psaki said that the 14 members of the MKO left their camp in Iraq on Wednesday "for permanent relocation in Albania." Tirana recently offered asylum to 210 members of the MKO members. Speaking to ICA… mehr » http://smarkos.blogspot.com/2013/05/iranian-mp-warns-tirana-hosting-mko.html
Die Mudschahiddin des Volkes (iranische von Washington finanzierte bewaffnete Opposition) hielten am 27. Juni 2014 ein sehr breit angelegtes Treffen in Villepinte in der Nähe von Paris. Mehr als 80.000 Personen nahmen an dieser Veranstaltung teil.
Terrorliste der USA (1997–2012)
Vom 10. August 1997 bis 28. September 2012 stand die Organisation auf der Liste der ausländischen Terrororganisationen des Außenministeriums der Vereinigten Staaten.[32]

Mitglieder der Mudschahiddin des Volkes kämpfen seit drei Monaten in Syrien und im Irak an Seiten des EIIL. Maryam Radschavi traf am 23. Mai 2014 den Präsidenten der syrischen nationalen Koalition in Paris. http://www.voltairenet.org/article184515.html
Andrew Marshall: Terror Blowback burns CIA – America's spies paid and trained their nation's worst enemies. The Independent, 1. November 1998 (engl.)
2007 hatte US-Präsident George W. Bush in einer Direktive die CIA angewiesen, mit verdeckten Operationen einen Regimewechsel in Iran herbeizuführen. Die Volksmodschahedin stehen im Verdacht, die Dschundollah zu unterstützen.[24]
Einstufung als Terrororganisation
Nach Buchta (2000) verfügten die Volksmodschahedin und ihre zivilen Ableger über ein Firmengeflecht in Europa und Afrika mit Währungsreserven in Höhe von 500 Millionen US-Dollar.[25]
Erst die USA machten den Al-Qaida-Ableger ISIS zur internationalen Terrororganisation –
……………
Mossul oder das Märchen von 1001 Soldaten
Um herauszufinden, was hinter dem Erfolg von ISIS steckt, nützt es, sich das Zustandekommen ihres bisher größten "Sieges" genauer anzusehen: Nach mehrtägigen Schießereien mit der irakischen Armee rückten am 10. Juni zwischen 800 und 1 500 ISIS-Kämpfer auf Iraks zweitgrößte Stadt Mossul vor. Sicher scheint: Mindestens 30 000 irakische Soldaten standen ihnen gegenüber und gaben die Stadt schließlich fast kampflos auf. Schnell wurde in Medien die geringe Loyalität sunnitischer Soldaten zum schiitischen Präsidenten als Grund für die Massendesertierungen ausgemacht."(3)……………..http://www.hintergrund.de/201407013139/globales/terrorismus/die-unglaubliche-reise-der-verrueckten-terror-miliz.html
500 Millionen $ Vermögen will diese Terroristen Gruppe, haben was viele Jahre beschlagnahmt war. Am 27. Juni war nun ein grosses Internationales Treffen in Villepinte bei Paris statt, von den Amerikanern wie so oft an vordester Stelle unterstützt und finanziert.
Press Statement Jen Psaki
Spokesperson
,
Office of the Spokesperson
Washington, DC
June 3, 2013
For Obscure Iranian Exile Group, Broad Support in U.S.
Mujahedeen Khalq supporters and Secretary of State Hillary Rodham Clinton in Washington. Credit Jim Lo Scalzo/European Pressphoto Agency
Das Hormon gestörte weibliche Dachschaden Kleeblatt, des Verbrechens als System und mit Nazis und Terroristen:
Korrupter Deppen Club, der Inkompetenz und Lüge
SManalysis – Vor 1 Tag
Clinton, Ashton meet with Kosovo officials
Dreieinigkeit der Dummheit (Dumm umgibt sich mit Strohdumm): davon die Kosovo Präsidentin mit gefälschten Schul Zeugnissen, gefakten Polizei Diplomen, also eine Betrügerein, wenn man viele Jahre das Gehalt der 2. höchsten Polizei Direktorin kassiert, wo die erpresste Einsetzung als Präsidentin durch den Gangster Alexander Dell, Bechtel Lobbist der für den Betrug 1 Millionen $ kassierte, ein Welt Skandal ist,, in den Betrugs Manöver der eigenen Baufirma des US Department of State.
Tom Ridge, war der Haupt Promoter der MEK Terroristen, ebenso zockte er in Betrügerischer Weise 480.000 € von der Albanischen Regierung ab, als Erpressungs Gebühr, das man die NATO Mitgliedschaft besorgt, weil Tom Ridge, zu den Haupt Figuren gehörte für den Irak Krieg. Er wollte mit dem Gangster Damir Fazllic, einem Agenten des Britischen Mi5 Energie Geschäfte, wie Fracking einführen in Albanien in 2006.
A1 Report – Berisha pagesa per lobim "Podestes" 1 dite para se te dorezonte pushtetin
Tom Ridge gehört zu den Lobbyisten der Prominenz der US Politiker, welche von Islamischen Verbrecher und Terroristen Organisationen gekauft wurden. Terroristen Organisationen leben vom Drogen- Waffen Schmuggel, Raub und Verkauf von Öl und Gas. Ebenso Wesley Clark, und praktisch die komplette Prominez der Auslands Diplomaten der Amerikaner, kassieren, erpressen Geld von korrupten und kriminellen Gruppen und Regierungen, für geschönte Berichte.
Islam Terrorist: Partner – CIA, Clinton, Frank Wisner, John Negroponte
http://www.youtube.com/watch?v=TPD5S9rTDyE
Mit Vortrags Honaren, wie in Deutschland u.a. Steinbrück, werden die korruptesten Politiker eingekauft.
Video: Washington's Favorite Terrorists: Mujahedin-e Khalq (MEK, MKO, PM
BBC Newsnight: Mujahideen-e-Khalq Terrorist MeK MKO – Part 1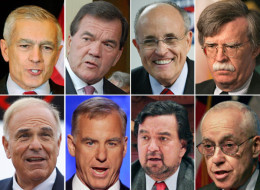 Die Lobby Gangster Truppe, inklusive Wesley Clark, der Mafia Vertreter:
Mujahideen-e Khalq: Former U.S. Officials Make Millions Advocating For Terrorist Organization
First Posted: 8/8/11 09:53 AM ET Updated: 8/8/11 12:30 PM ET
………………..
Hamilton acknowledged to IPS News that he was paid for his appearances, describing his fee at the time as "significant." Dean also acknowledged that he was paid for at least a portion of the speeches he gave to MEK groups in London, Paris and Washington, as did Gen. Clark. Gen. Jones told The Wall Street Journal that he received a "standard speaking fee." Gen. Zinni's speaker agent confirmed that Zinni was also paid his "standard speaking fee" for an eight-minute address at an MEK-related conference in January — between $20,000 and $30,000, according to his speaker profile. The same firm arranged for Zelikow to speak at two MEK-affiliated events this spring, and it recruited John Sano, the former deputy director of the National Clandestine Service, for his first MEK-related appearance on July 26.
http://www.huffingtonpost.com/2011/08/08/
That agenda: to secure the removal of the Mujahideen-e Khalq (MEK) from the U.S. government's list of Foreign Terrorist Organizations. A Marxian Iranian exile group with cult-like qualities, Mujahideen-e Khalq was responsible for the killing of six Americans in Iran in the 1970s, along with staging a handful of bombings. But for a terrorist organization with deep pockets, it appears there's always hope.
Video
Rudy Giuliani supports Mojahedin Khalq
(MKO, MEK, NCRI, Rajavi cult)
Rudy Giuliani and John Bolton Are Terrorists Now
…..
http://www.iran-interlink.org/?mod=view&id=9276
Der Iran offerierte 2003 Hilfe bei der Stabilisierung des Irak, was abgelehnt wurde, denn die Dumm Banditen mussten erst die Aufbauhilfe stehlen, wie in Afghanistan, oder Haiti, wo ebenfalls 90 % der Gelder verschwand. 500 Mill $, 6 Häuser wurden dafür in Haiti gebaut, 10 Milliarden $ verschwanden im Irak spurlos.
An Iranian overture, 2003
Wilkerson said in an interview on BBC Newsnight, January 17, 2007, that an Iranian offer to help stabilise Iraq after the American invasion, was positively received at the State Department, yet turned down by Dick Cheney.[8][9] The reported offer consisted of help in stabilizing Iraq, cutting ties with Hezbollah and greater transparency in its nuclear program in return for lifting sanctions and dismantling the Mujahedeen-e Khalq, an organisation working to overthrow the Iranian government. When this offer was made, numerous middle-east experts were warning of the coming shift in power in Iran toward the right-wing Mahmoud Ahmadinejad, who would assume power shortly thereafter.
http://en.wikipedia.org/wiki/Lawrence_Wilkerson#Iraq_war_intelligence_was_.22a_hoax.22
A list of some MEK agents trained by Saddam's Republican Guard now operating in Tirana (In Persian)
Faezeh Mohabatkar, Saddam's Privat Army commander now working for Mojahedin Khalq Terrror group in Tirana
MEK's Western backers are complicit in their deaths (aka Mojahedin Khalq, Rajavi cult)
16.7.2015
Iran-Zanan representatives meet Christian Democratic Union member
Anne Khodabandeh (Singleton), Middle East Strategy Consultants, December 27 2013: … In the past year over 8,000 people have died in violent incidents in Iraq. The problem is not that the MEK are being singled out for attack, the real problem is that nobody is allowed to get inside Camp Liberty to help rescue these people from their enforced captivity. Nobody is allowed to help them or
2015/07/16 by Iran Interlink
Iran-Zanan representatives meet Christian Democratic Union member
2015/07/25  Mojtaba Bidaqi succeeded to leave Rajavi cult. 30 more transfered to Albania
http://iran-interlink.org/wordpress/?p=6436
Nejat Bloggers, July 25 2015:… Two groups of residents of Temporary Transit Location (Camp Liberty) relocated to Tirana during the past Two weeks, Nedaye Haghighat website reported. Each group includes 15 individuals. The process of MKO members' relocation to third countries was scheduled to be completed …