Glaubwürdigkeit Ade, wo schon die Albaner 1998 wussten, wer den Krieg und Anschläge wie Kriminelle für den Kosovo Krieg finanzierte. Aktuell: Die NATO wil den Welt Kriminellen Nr. 1, als Mitglied, womit dann Alles gesagt ist.
Wenn man den Titel von einer renomierten Website, der grössten Investigativen Organisation Weltweit von Investigativen Journalisten erhält, als Mann des Jahre der Organisierten Kriminalität (OCCRP is one of the world's largest investigative reporting organizations, producing more than 60 investigative reports by some 120 journalists each year) ist es schon etwas Besonders.


Die Weltweiten Medien haben einen Lachkrampf, über die Dumm Dreistigkeit des US Department of State, mit den Hirnlosen wie Victory Nuland und John Kerry.
"USA haben Syrien Frieden und Sicherheit gebracht": Kopfschütteln und Gelächter über Washington
Die dümmsten Lügen verbreitet das US Department of State, etliche nahe NGO's, das Auswärtige Amt, was in dragisch Lächerliche inzwischen geht.
Neues NATO Mitglied Montenegro: 2015 MAN OF THE YEAR IN ORGANIZED CRIME: Award: Milo Djukanovic

Die Kosovo – Albanischen Mujaheedin im Jihad: Black Eagle und Atlantik Battallion, als SS Todesschwadronen, Terroristen Grupe vor 16 Jahren schon. US Finanziert, inklusive Scharfschützen Gewehre.

Albanien war eine Ruhe Stätte direkt der Bin Laden Leute wie Yassin Kadi, wobei Bin Laden persönlich mehrfach in Albanien war. Für Geld gekaufte Institutionen wie HRW, TI, US und Deutsche Politiker sind schon lange Tradition. Der Islamische Kopf Abhacker Staat in Europa geplant schon vor über 20 Jahren, von den Amerikaner und deren Partner den International operierenden Katar, VAE, Saudi Terroristen. Die NATO Kopf Abhacker, waren schon vor über 20 Jahren gut dokumentiert, im Kosovo ging es weiter und heute in Syrien.
http://www.longwarjournal.org/archives/2015/06/islamic-state-touts-jihadists-from-the-balkans.php

Tuesday, May 26, 2009
The Green Corridor in the Balkans
The following article by Dr. Srdja Trifkovic1 was the basis for the author's presentation and an accompanying discussion at the meeting in Copenhagen on May 17, 2009. It is one of a series of essays collected in the book Kosovo: The Score 1999-2009, which was published earlier this year by the American Council for Kosovo and the Lord Byron Foundation for Balkan Studies. It is reproduced here with permission.
………….
[T]he establishment of an independent Islamic territory including Bosnia, Kosovo and Albania… is one of the most prominent achievements of Islam since the siege of Vienna in 1683. Islamic penetration into Europe through the Balkans is one of the main achievements of Islam in the twentieth century.7
Shay's account shows how the Bosnian war provided the historical opportunity for radical Islam to penetrate the Balkans at a time when the Muslim world — headed by Iran and the various Islamic terror organizations, including al-Qaeda — came to the aid of the Muslims. The Jihadist operational-organizational infrastructure was thus established.
John Schindler, professor of strategy at the U.S. Naval War College and former National Security Agency analyst and counterintelligence officer, concurs: in his view the Balkans provide the missing piece in the puzzle of al-Qa'ida's transformation from an isolated fighting force into a lethal global threat.8 Radical Islam played a key role in the Yugoslav conflict, Schindler says: like Afghanistan in the 1980s, Bosnia in the 1990s became a training ground for the mujahidin, leading to blowback of epic proportions.
….

http://gatesofvienna.blogspot.com
U.S. Policy and Geopolitics of Jihad: The Green Corridor in the Balkans
Bosnia, 1995: The American jihadist Bill Clinton has bombed  Christian Serbs in behalf of Muslims: -1995 in Republic of Serbska (Bosnia) and 1999. Kosovo Metohija
Bill Clinton und seine Terroristen im Balkan eine Skandal Legende auch im US Senat dokumentiert. Die Verbindung in den Drogen Schmuggel und mit Hillary Clinton in die Iran Contra Affäre ebenso.
Bosnia, 1995: The American jihadist Bill Clinton has bombed  Christian Serbs in behalf of Muslims: -1995 in Republic of Serbska (Bosnia) and 1999. Kosovo Metohija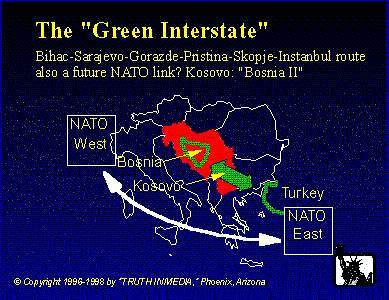 Der Islamische Staat, mit den Bill Clinton Terroristen von 4.000 Kopf Abschneidern wurde schon unter Reagon geplant in Bosnien, Kosovo, Albanien vor über 20 Jahren.
Albanian Secret Service Chief Fatos Klosi in 16.5.1998 in der "Albania" durch den Albanischen Geheimdienst Chef Fatos Klosi: KLA (UCK) is financed by Bin Laden
Hier begann die Geschichte mit dem Partner von Hans Dietrich Genscher: dem US Senator Bob Dole, als Dumm dreisten Terror Enterprise, wie später der CIA Offizier Robert Baer outete:
CIA Offizier: Robert Baer: Wie der CIA mit Millionen den Balkan zerstörte: NATO Geheime Graphiken über die Politischen Verbrecher Clans im Kosovo
Bin Laden Meeting in 1995 in Tirana: Der NATO Motor: korrupter Politiker mit Hasim Thaci und Salih Berisha als Islamische Terroristen
Drogen Schmuggel, Geldwäsche, als System bei den Banditen
Von Georg Soros, Partner der Deutschen Regierung und von korrupt Dumm Kriminellen Politikern (u.a. Joschka Fischer: Taxi Schein Besitzer und die Grünen Pädophilen, Schwulen Kriegs Bande), wurde die Flüchtlingswelle, der Banken Betrug, aber auch die Islamischen Terror Staaten geplant. Immer dabei bei Mord Nazis, den Islamischen Kopf Abschneidern, der Berufs Kriminelle Elmar Brok, wo es genügend Fotos gibt, das er die Genver Konvention ebenso ignoriert und auf dem Maidan auftauchte, wie ander Hirnlose Kriminelle u.a. Guido Westerwelle, Ashton usw.
Elmar Brok in Verbrecher Mission, mit dem Ober Terroristen Financier: John McCain und Financier von Ethnischen Säuberungen, Massen Morde mit Kopf Abhackern: Elmar Brok immer dabei auch bei den Albanischen vermurksten Gestalten des Verbrechens. Hitler hat sehr aktive Partner und Nachfolger gefunden, welche heute schlimmer hausen, denn je.
Für Geld eingekauft:
In 2014, McCain actually praised one of those reportedly named in the joint congressional report as providing material assistance to the hijackers, former Saudi ambassador to the United States Prince Bandar bin Sultan. Appearing on CNN, McCain proclaimed, «Thank God for the Saudis and Prince Bandar.» Around the same time that McCain was praising the Saudis, the McCain Institute Foundation, the non-profit money fundraising arm of the McCain Institute for International Leadership at Arizona State University, received a $1 million donation from the Royal Embassy of Saudi Arabia in Washington, DC.
Vor kurzem ging ein Foto durch die Welt und durch die Medien (Balkaninsight), wie der Albanische Terrorist Idajet Balliu, als Mitglied der ISIS Banden, sogar einem Kind den Kopf abschnitt. Selbst im Kosovo war man entsetzt. Nun wurde er bei den Kämpfen mit den Kurden Milizen selbst getödet, was nicht der erste tode Albaner im Irak, oder in Syrien ist.
Albanian Jihadist Reportedly Killed in Syria
Die Albaner Mafia finanzierte mit 1 Million $ den Wahlkampf von John McCain vor Jahren.
Der Startschuss war schon 1985, mit Kriminellen und Terorristen Staaten zuzerstören durch Bob Dole. Nachdem der IMF ein Desaster 1989 anrichtete, entsandte man u.a. CIA Offizier Robert Baer um Panik mit Kriminellen zuorganisieren im Balkan, vor allem durch Anschläge und Morde, ein altes CIA Muster.
Nach eigenen Ausführungen gehört Hashim Thaci, zu den Kopf Abschneidern im Kosovo, wo mit Terroristischen Aktionen, eine Gegen Reaktion des Staates produziert wurde, u.a. auch durch die Entführung von Zivilisten, Folterung, Ermordung wie die Fakten zeigen. Der NATO Generalsekretär Lord Roberston, bestätigte später, das die UCK – KLA mehr Albaner ermordete als die Serben. Die UCK – KLA war 1998 als Terroristische Organisation eingestuft, nachdem Bericht es US Sonder Gesandten Robert Gelbard und der Ganster Jo Biden war schon damals dabei. Bill Clinton brachte die Kopf Abschneider nach Bosnien, und Nord Albanien, was Geschichte ist.
Im Auftrage der Amerikaner gut geübt in Bosnien und dem Kosovo. Deutschland finanziert diese Kopf Abschneider und Nationalistischen Terroristen und immer dabei: Drogen und Waffen Handel.
Fan Gemeinde SWP-Berlin, das Auswärtige Amt, mit Guido Westerwelle und Co. Tausend Fotos, Hunderte Videos, über die aus Berlin mitfinanzierten Verbrechen, in Afghanistan, Balkan, Libyen, Syrien usw.. Alles von Kriminellen übernommen und unterwandert.
Sie hängen YPG-Kämpfer an Zäune, andere zeigten sie auch schon in Azzaz geköpft, am Rande von wenigen Medien erwähnt.
Politik des Auswärtigen Amtes: Immer mit Kriminellen: siehe auch Mazedonien in 2001, als es noch richtige Medien in Deutschland gab und den kriminellen Murks des Joschka Fischer nicht glaubten.
The Islamic State released a new English-language video that focuses on jihadists from the Balkans who are fighting in Iraq and Syria. Jihadists from Bosnia, Albania, and so called Kosovo, as well as some of their families, are featured in the propaganda film.
The presence of Balkan fighters in Syria has been recorded since 2013. They have joined both al Qaeda's official branch in Syria, the Al Nusrah Front, and the Islamic State.
http://www.longwarjournal.org/archives/2015/06/islamic-state-touts-jihadists-from-the-balkans.php
Das US Desaster mit den Kosovo Terroristen, die in Syrien auf Raubzug gingen
Original von den USS und John McCain finanzierte Terroristen und durch die Saudis, Katar Banditen, wo sich Frank Walter Steinmeier gerne herum treibt.
McCain mit Terroristen in Syrien
John McCain and the heads of the Free Syrian Army. In the left foreground, Ibrahim al-Badri, with which the Senator is talking. Next, Brigadier General Salim Idris (with glasses).
Islamic State's main jihadists are from Balkans
Syria
Mudzaheri aka Abu Abdullah Kosovai  beheading Syrian teenager
ISIS, KLA – what's the difference? : Albanians have been experienced in cutting off Serbian heads –  Kosovo 1998 – 1999: Middle: Sadik Cuflaj, an Albanian from Decani, terrorist trained by NATO, USA; Turkey; Right: Valon Cuflaj, son of Sadik, born in 1981.On the left: unedintified Albanian terrorists. The head in Sadik's left hand  is identified as Bojan Cvetkovic, born in 1972. in Nis, kidnapped on the road Prizren – Pristina on 11. April 1999.
(Valon Culaj is today member of police force in Kosovo. Neither him, nor his father have ever been under any investigation)
Abu Abdullah Kosovai was said to be ISIS's frontline commander in Iraq.
The 24-year-old from the town of Kacanik in Kosovo first "joined Jihad" in Syria and committed brutal crimes there. In late July he posted photos on Facebook showing him holding a Syrian teenager, preparing to decapitate him with a knife, and then holding the severed head in his hands, posing in front of the camera.
In an interview published by the Tirana daily Ditari on August 2, he stated that he "did nothing more than what members of the KLA did during the war (in Kosovo)."
Source:  http://www.balkaneu.com/balkan-spinners-albanian-group-recruits-fighters-rome/#sthash.rKQLGJn4.dpuf
http://rudaw.net/english/middleeast/iraq/08122014
30 Dec 15
Albania Charges Imam With Recruiting for ISIS
Almir Daci, the ISIS militant shown in June in a threating video, will be tried in absentia, while investigations into other Albanians now in Syria have been suspended.
Flamur Vezaj BIRN Tirana
Almir Daci | Photo: Youtube video.
Five months after a video showed him threatening Albanians on behalf of ISIS., Albania's serious crimes prosecution office has passed Almir Daci's file to the courts for trial.
The former imam from Pogradec in eastern Albania, who is now believed to be in territory held by ISIS, will be tried in absentia for advocating terrorism and for recruiting persons to conduct terrorist acts.
Daci, known also as Ebu Belkisa, is considered one of the most active Albanian militants in ISIS.
Most Albanians are Muslims, although historically, hard-line Islam has had little traction among Albanians.However, religious militants have made some progress in recent years and the International Centre for the Study of Radicalisation, ISRA, a think tank based in King's College, London, believes some 300 Albanian fighters – from Kosovo, Macedonia and Albania – have joined Jabhat al-Nusra or ISIS.
Jabhat al-Nusra, also known as the al-Nusra Front, is a branch of al-Qaeda fighting in Syria. ISIS – the Islamic State of Iraq and al-Sham – was founded in the early years of the Iraq war. It pledged allegiance to al-Qaeda in 2004, becoming known by that name in Iraq.
http://www.balkaninsight.com/en/article/jihad-ii-the-criminal-file-of-the-former-imam-sent-to-court-12-29-2015
26 Nov 15
Albanian Jihadist's Easy Passage to Syria's Brutal War
A former Islamist fighter in Syria recalls why he went to Syria, how easy it was to get there – and why he would go again, if he could.
Aleksandra Bogdani, Flamur Vezaj BIRN Tirana
90 Albanians went to Syria between 2012 and 2014 to take part in what they believed was a holy war. Photo: BIRN
On his first trip abroad, he left with 400 euros in his pocket, a printed map from the internet and the belief that he was fulfilling his destiny in eyes of Allah. The destination was the frontline of the war in Syria, but his jihad ended faster than it started.
Two years later, in a bar full of people in his hometown in northern Albania, Ebu Merjem stands out with his long beard and his trousers cut short above the ankle.
He does not like the attention he attracts and chooses a half-empty corner of the bar to explain what that pushed him towards a far-away war.
"If I had the chance, I would go even today and fight in Syria," Ebu Merjem says. "It was God that created jihad and you have to love something that God loves," he added.
The 37-year-old unemployed father-of-two has been a practicing Muslim for 17 years.
He is one of 90 Albanians who went to Syria between 2012 and 2014 to take part in what they believed was a holy war.
Since the Syrian conflict began, ten Albanian jihadists have lost their lives there. Thirty others returned home before the adoption of a law that criminalizes participation in conflicts abroad.
According to documents obtained by BIRN, nearly 50 Albanian jihadists identified by the security services are still fighting in Syria.
Albania is a Muslim majority country with a long tradition of interfaith coexistence, and few understand why local Muslims like Ebu Merjem have traveled to fight in Syria.
Merjem has lived all his life in Albania, but believes his homeland is wherever there are Muslim believers. If his Muslim brothers are being attacked, even if they are thousands of kilometers away, he feels it his duty to protect them.
"My brother is the American, Syrian or French Muslim. My enemy may even be my brethren," he says.  "This has nothing to do with nationality or blood. I went there for my faith and my biggest regret is that I couldn't experience war," he added.
The road to Syria
The majority of the Albanian jihadists became part of the Jabhat al-Nusra front, a branch of Al-Qaeda. Photo: BETA/AP
Syria was the last country in the Middle East to be engulfed by the wave of anti-government protests in spring 2011 known as the Arab Spring. The conflict there soon took the nuances of a civil war.
The involvement of militant Islamic organizations in this war and its geographical proximity to Europe soon turned Syria into a hub for jihadists from all over the world.
The use of the internet and social networks directly from the battlefield popularized calls for jihad, especially in Europe where a considerable number of second-generation immigrants from the Middle East have embraced religious extremism.
From the beginning of the conflict until now, over 12,000 foreigners from 81 countries have joined militant organizations fighting in Syria. Nearly 3,000 are believed to have come from Western countries.
Ninety of these fighters are Albanian followers of the Salafist brand of Islam, preached on the fringe by imams, often in isolated mosques whose legal standing the official Muslim Community of Albania questions.
These believers started to show up in force at Tirana airport in the autumn of 2012, where they declared they were travelling to Turkey for health reasons. From Turkey, the jihadists jumped the border illegally into Syria and landed in the war.
The head of Albanian League of Imams, Justinian Topulli, lists several reasons for the involvement of Albanian Muslims in the war in Syria.
He says they felt a form of religious solidarity with the Syrian Muslims in their struggle against Bashar al Assad's dictatorship, but it was also a way of escaping the Albanian reality, in which many Muslims do not feel comfortable.
Another no less important reason, according to Topulli, is the misunderstanding and misinterpretation of religious texts about the Apocalypse, which some preachers mistakenly tie with current events in Syria.
In contrast to Topulli, Ebu Merjem believes that a Muslim's highest purpose is the sacrifice of jihad.
"A man must seek the eternal. One day we will all die, but to die as a Muslim martyr is the highest death of all," says Ebu, sounding very convinced.
This is what he was looking for when he went to Syria on November 17, 2012, with three other believers from Albania.
For three months he went from one camp to another, but he never got the opportunity to go to the front even for a day, which disappointed him deeply.
He returned on February 2, 2012, a few days after two of his other comrades also returned home. The fourth member of the group, Denis Jangulli, was killed on the first day he went to fight against the government forces of Assad.
Many things have changed since then, both in Albania and Syria. The Albanian police have either arrested the religious leaders of the Albanian fighters in Syria or they are on the run.
After turning a blind eye to the Albanian jihadists traveling to Syria for a long time, the authorities opened an investigation in December 2013.
On March 11,a joint operation by the Serious Crimes Prosecution Office, the National Intelligence Service and the police resulted in eight arrests and warrants being issued for five others.
On August 19, Albania passed a law that mandates jail sentences of up to 15 years for anyone who gets involved in the Syrian conflict or who recruits people to take part in the war.
Two of the suspects detained in the joint operation were imams, accused of organizing the recruitment of the jihadists.
Genci Balla and Bujar Hysa used to preach jihad in two mosques; one located in a suburb of Tirana and the other in the village of Mezez, a few kilometres from the capital. Some more isolated cells were identified in Leshnicë, near Pogradec, the city of Elbasan, the town of Cerrik and the village of Dragostunje, near Librazhd.
The third organizer was Gerti Pashaj, a student radicalized in Turkey, who is thought to have acted as a guide for the Albanian jihadists seeking to reach the war front.
Ebu Merjem denies having been recruited or paid by any of them. He says he went to Syria of his own free will and adds that Denis Jangulli helped him only with the details of the trip.
He describes Jangulli, who was killed, as a brother and as a devoted believer who spoke four foreign languages and had strong connections in Kosovo and Macedonia.
Ebu Merjem cannot speak any foreign language and only embraced Islam after getting in touch with two Albanian students who had studied religion in Saudi Arabia.
The cleric Justinian Topulli says a lack of understanding of Islamic text is the main reason why so many Albanians that have gone to fight in Syria, believing they are engaging in holy war.
Topulli explains that while a good Muslim must fulfill the commandments of the Koran, armed jihad is not one of them.
"Armed jihad is not an individual obligation either for Albanians or for the others, but for communities and countries if they have the possibility to do something in this case," he said. "Our jihad is to help our country and family to deal with the problems of our common home, called Albania," Topulli added.
Forced oath of allegiance
The journey to Syria for jihadists is a simple one. Photo: BETA/AP
According to Ebu Merjem, the journey to Syria for jihadists is a simple one. They travel to Istanbul, buy a bus ticket worth 80 euro to the border town of Rehanlia and find a man there to jump the border.
He describes the region between Turkey and Syria as easy terrain for would-be jihadists; dozens of young people from France, Sweden, America or Belgium go in and out from a fence, which is the only barrier between the two countries.
Smuggling jihadists from one side of the border to the other is no different from the other kinds of human smuggling.
Ebu Merjem says he gave a Turkish shepherd a few euros to help him cross the border mostly because he was afraid he would spy on him rather than show him the way.
After they crossed the border, Ebu Merjem and his comrades sought the city of Aleppo, which has been the scene fierce fighting between government forces and rebels since the start of the conflict.
However, the Albanians got stuck for a long time in the camps in Tal Rifat, a town in the Aleppo region controlled by the Al-Nusra front, a branch of al-Qaeda.
The Albanian jihadist were eager to reach the front but underwent a series of background checks by leaders of the foreign jihadists. "They looked at as with suspicion and gathered our passports in order to verify us. We didn't like this but they were afraid of infiltration," Merjem says.
The Albanian jihadists stayed for the first 10 days in a house and were then sent to a real training camp. The camp was also in the region of Tal Rifat. This time, they stayed in a luxury home occupied by the radical Islamic group, a phenomenon that the media call the "5-star jihad".
They spent their days studying the Koran and were trained to use Kalashnikovs or snipers. "We also used to run a little but it was no big deal. The lack of weapons was the main problem and none of us had 1,500 dollars to buy a Kalashnikov," he said.
According to the Albanian prosecution file obtained by BIRN, the majority of the Albanian jihadists became part of the Jabhat al-Nusra front, a branch of Al-Qaeda. Some arrived there as part of a Turkish extremist group, Murat Gezenler, while the Albanians from Macedonia fought under Chechen fighters.
However, in a chaotic civil war this configuration changed over time. By 2013, most of the Albanians had gathered in a brigade of 45 to 50 persons on the outskirts of Aleppo led by Numan Demolli, from Kosovo, and, after he was killed, by Lavdrim Muhaxheri.

Until ISIS emerged, they stayed under the protection of Al-Nusra. Today, most of the 50 Albanians remaining in Syria are fighting with Islamic State.
In his interview for BIRN, Merjem says they couldn't stay in the camp unless they swore an oath to Al-Nusra. If they had not done so, their presence there would have become even more suspicious and unwanted.
"The people from Jabhat al-Nusra came and asked us to swear an oath to them but we didn't do that," he says.  "We told them that we were sworn to Allah and were there to help the Syrian people," he added.
During his three months stay in Syria, Merjem had another problem. He had not got his mother's permission to engage in holy war. This is a big concern for believers, because jihad is seen as invalid if it is undertaken without a parent's permission.
After his mother refused to give her permission, Ebu Merjem decided to return to Albania. During this period, his fellow Albanian jihadist, Jangulli, was killed in an attack outside Aleppo.
"I was saddened because I would miss a friend; at the same time I was also happy because God received him as a martyr," Merjem recalled.
Merjem returned to Albania on February 2, 2013. Since then, the authorities have not allowed him to leave the country.
He keeps informed about everything happening in Syria and now question some of the actions of the Islamic State.
Merjem says that the war is causing death on all sides, endless atrocities, including the crimes that "the Muslim brothers" of ISIS are displaying with pride in social media. But still he does not like it when their crimes are judged by non-believers.
"They are shedding a lot of blood in the name of religious misunderstandings and misinterpretation of the Koran," he says. "Even scholars have talked about this. But we don't want their mistakes being judged by anyone else except Muslims," Merjem added.
European Union countries and Europol suspect that former jihadists like Merjem pose a threat to European security.
In the West, the de-radicalization of the jihadists is often compared to the rehabilitation of alcoholics or drug addicts.
Albania's authorities are uncertain how to best respond to this threat. Since adopting the law that penalizes involvement in the war in Syria, the government has set up a massive antiterrorism structure to monitor its citizens that have returned home.
But Prime Minister Edi Rama believes that Albania is no more exposed to Islamic radicalism than other countries. "This risk is everywhere, just like Ebola," said Rama in an interview.
The Albanian police told BIRN that jihadist returning from Syria do not pose a particular threat to the country, although their social isolation may become problematic in the future.
Topulli, from the League of Imams, agrees, arguing that the integration of these people back into society is the challenge lying ahead. He urges the authorities to show caution and avoid using repressive measures that could add to tensions.
"The people who returned from Syria are part of us and must be treated like all normal people so that they do not feel like strangers in this society," Topulli said.
Merjem confirms that he doesn't quite fit into Albanian society. Because of his faith, he has had to quit one job after another and he often finds it difficult to support his family.
He does not believe in the Muslim Community, the state or the international community. He thinks they collaborate all to interfere with his Muslim brothers in Albania and the world.
He would rather live in a remote land than Albania, if he could find spiritual peace there. "If they established a good Islamic state in future, I would choose to live there. People like us feel despised here," he concluded.
Ebu Merjem is the religious name of the interviewee after he returned from Syria. Mejrem agreed to give this interview to BIRN in November 2014, without revealing his real identity.
http://www.balkaninsight.com/en/article/albanian-jihadist-s-easy-passage-to-syria-s-brutal-war-11-25-2015


Albanians Terrorist in Syria, partner of USA, Westerwelle, Germany,
Family Terrorist Group in Kacanik Sout Kosovo
Wesley Clark by the NeoCons War crime Mafia in the Pentagon End of 2001

General Wesley Clark: Wars Were Planned – Seven Countries In Five Years
Verbrecher und Kopf Abschneider werden von der Deutschen Regierung finanziert im Steinmeier System der Kopf Abschneider und dem Betrug und der Erfindung: " Kampf gegen den Terrorismus".
Albanischer Minister Valentina Leskaj wusch Geld für Bin Laden
Der sehr einflussreiche und mächtige Albanische Politiker Valentina Leskaj, der u.a. auch Minister für Arbeit und Soziales war in Albanien und zur Partei von Fatos Nano gehört, diente direkt als Geldwäsche Zentrale für Bin Laden!
Eng verbunden mit  Abdul Latif Saleh!
Brief von Salih Berisha an Abdul Latif Saleh, aus 1992
Aus dem aktuellen UN Report
"Ethnic Albanian Criminal Groups" are the only national group discussed in the 2006 Europol [European department of Interpol] publication The Threat from Organized Crime:
"Ethnic Albanian organized crime groups have established themselves in many European Union Member States and beyond… ethnic Albanian crime groups are found to extend their role from facilitators to achieving full control in certain crime areas. They adapt without difficulties to local or changing situations."
No "Freedom Fighters", Just Criminals and Thugs
………………..

No, it has nothing to do with "freedom", "independence" or "self-determination", it is all about illicit trade, crime without punishment, lawlessness, thuggery and insatiable greed.
Criminals, Terrorists or Politicians? In Kosovo-Metohija, all Three.
Excerpt from the UN Office on Drugs and Crime report for March 2008
[pg 52] According to an Interpol statement made before the U.S. Congress in 2000:
http://www.unodc.org/documents/data-and-analysis/Balkan_study.pdf