Berisha warf den US Offizier Dennison Lane, aus seinem Büro im Generalstab des Militärs in Tirana in 1996, wo 1997 dann ein Racheakt war, von Georg Tenet, eine Revolution über Sarande anzuzetteln, mit ein paar Kriminellen. Andere hohe Offiziere, welche Verbindungen zu den Deutschen hatte, wurden ebenfalls damals entfernt.
Zhulali im Rückblick der Geschichte, 212 pdf Seiten Bin Laden und Albanien, und der US Militär Vertreter Dennis Lane 1995-1996, den Berisha aus dem Land warf, wo in Folge dann der CIA den Bürgerkrieg über Sarande in 1997 und mit Kriminellen in Vlore organisierte. Pentagon: Dennis Lane in Albania: 1995-96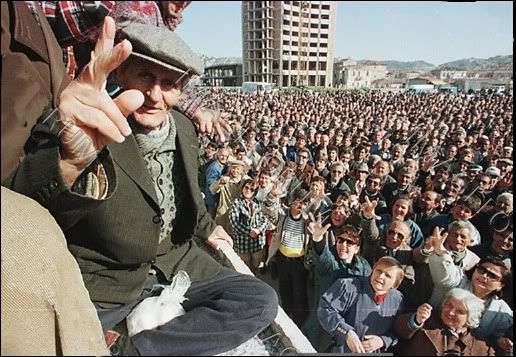 From Wikipedia, the free encyclopedia
Albanian civil war of 1997
970315-N-0000S-008 NEO Operations USMC.jpg
Evacuation of U.S. citizens during Operation Silver Wake
Date 16 January – 11 August 1997
(6 months, 3 weeks and 5 days)
Location Albania
Causes Pyramid schemes failure, economic crisis
Result New parliamentary elections[1]
Parties to the civil conflict
Albania Rebels
Armed civilians who lost their money
Socialist Party of Albania
Armed gangs from Southern Albania
Albanian Army defectors
Salvation Committees
Albania Government of Sali Berisha
SHIK
Part of the Albanian police
Republican Guard
Voluntary forces from Northern Albania
ItalyItalian Armed Forces (Operation Alba)
FranceFrench Armed Forces (Operation Alba)
TurkeyTurkish Armed Forces (Operation Alba)
Greece Greek Armed Forces (Operation Alba, Operation Kosmas[2] and humanitarian aid)[3]
RomaniaRomanian Armed Forces (Operation Alba)
GermanyGerman Armed Forces (Operation Libelle)
AustriaAustrian Armed Forces (Operation Alba)
United States United States Armed Forces (Operation Silver Wake)
NATO
Units involved
AlbaniaUnknown
Albania 30,000 soldiers
Italy 7,000 soldiers
France 850 soldiers
Greece 803 soldiers[4][5]
Turkey 500 soldiers
Romania 400 soldiers
Germany > 100 soldiers
Austria 100 soldiers
Casualties
3,800, civilians and members of army, police and secret police[citation needed]
Part of the
Albanian civil war of 1997
Fighting groups
Forum for Democracy Committee of Public Salvation Government of National Reconciliation Operation Alba Volunteer Forces
Gangs of 1997
Gang of Çole Gang of Gaxhai Gang of Altin Dardha Gang of Pusi i Mezinit Gang of Cërrik Gang of Lushnje Gang of Tepelena Gang of Haklaj Family
Massacres in 1997
Massacre of 28 February 1997 Massacre of Qafë-Gjashta Massacre of Levan Massacre of Cërrik Massacre of Ura Vajgurore
Tragedies of 1997
Otranto Tragedy Qafë Shtama Tragedy
Treasury thefts
Krraba Stealing Stealing of Northern State Treasury
Rescue missions
Operation Silver Wake Operation Libelle Operation Kosmas
Agreements
6 March 1997 9 March 1997
UN Resolutions
Resolution 1101 Resolution 1114
Important events
Opening of the depots Desertion of 4 March 1997 7-8 March 1997 attack on Gjirokastër Visit of Romano Prodi Albanian parliamentary election, 1997 Albanian monarchy referendum, 1997
See also
Pyramid schemes in Albania Role of media in 1997 Literature on the events of 1997
During the riots in the city of Vlorë, men broke rocks to hurl at police.
The Albanian civil war, also known as the Albanian rebellion, Albanian unrest or the Pyramid crisis, was a period of anarchy, civil disorder and violence in Albania in 1997, sparked by Ponzi scheme failures. The government was toppled and more than 2,000 people were killed.[6][7]
By January 1997 Albanian citizens, who had lost a total of $1.2 billion—the population being only three million—took their protest to the streets. Beginning in February thousands of citizens launched daily protests demanding reimbursement by the government, which they believed was profiting from the schemes. On March 1 Prime Minister Aleksandër Meksi resigned and on March 2 President Sali Berisha declared a state of emergency. On March 11 the Socialist Party of Albania won a major victory when its leader, Bashkim Fino, was appointed prime minister. However, the transfer of power did not halt the unrest and protests spread to northern Albania. Although the government quelled revolts in the north, the ability of the government and military to maintain order began to collapse, especially in the southern half of Albania, which fell under the control of rebels and criminal gangs.[8]
All major population centers were engulfed in demonstrations by March 13 and foreign countries began to evacuate their citizens. These evacuations included Operation Libelle, Operation Silver Wake and Operation Kosmas.[2] The United Nations Security Council, in Resolution 1101, authorized a force of 7,000 on March 28 to direct relief efforts and to restore order to Albania. The UN feared the unrest would spread beyond Albania's borders and send refugees throughout Europe. On April 15 the 7,000 troops launched Operation Sunrise, an Italian-led mission that helped restore the rule of law.[8] After the unrest, looted weapons were made available to the Kosovo Liberation Army,[9] many making their way to the Kosovo War (1998–99).[10]
Nikollë Lesi, ish-botues i gazetës Koha Jonë ka shkruar kujtimet e tij, ku ndër të tjera përmend edhe rrahjen e Edi Ramës, 19 vjet më parë. Disa portale kanë botuar sot këto kujtime…